US technology companies are major adopters of renewable energy
the Internet 2018-12-28 13:46:46
According to the latest data from the Rocky Mountain Institute (RMI) Commercial Renewable Energy Center, US companies have purchased 2.8 GW of solar power in 2018, which is the 6.4 GW off-site renewable energy contract signed by the United States this year. portion.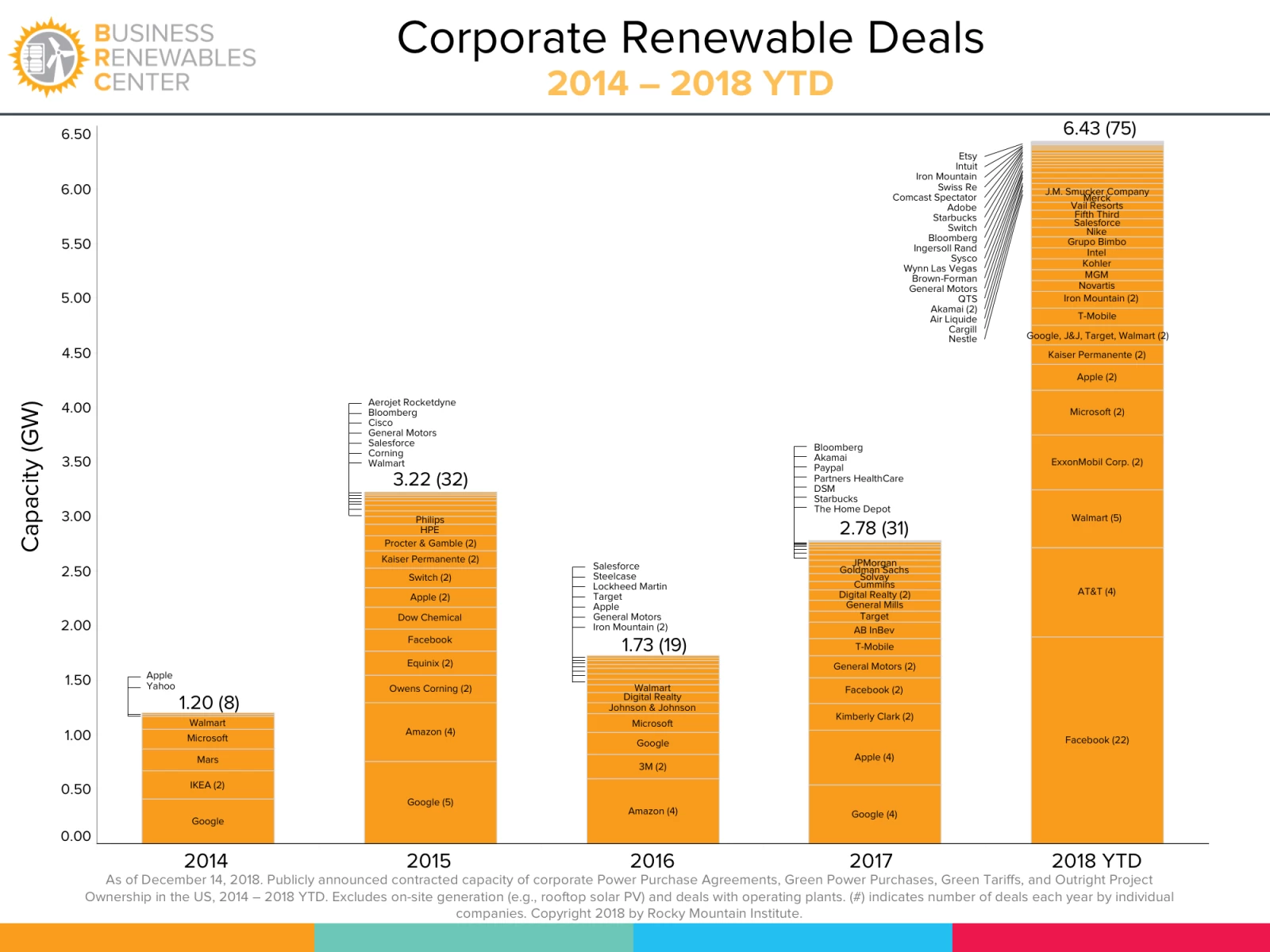 This is not only far more than any other year, but according to RMI data, the amount of solar energy purchased by companies in 2018 is 1 GW more than the sum of all other years. This is part of the boom in overall renewable energy procurement.

US social media giant Facebook has signed 22 renewable energy deals, including deals for about 1 GW of large solar power plants for data centers in Alabama, Georgia, New Mexico, Oregon and Utah, this year it It is the largest company in renewable energy procurement. This is an explosive growth compared to last year's signing of two such contracts by Facebook, and is increasingly being scrutinized by Facebook as it spreads the role of false and misleading news before the 2015 election.

Although Facebook's 1.85 GW transactions far exceed any competitors, AT&T's 820 MW renewable energy purchases are also a huge amount, especially notable, this is the company's first year of market participation. . Closely followed by Wal-Mart, the company is one of the largest adopters in the field of solar energy, and earlier this year signed an agreement to install 23 megawatts of solar cells at 21 plants in Illinois.

Microsoft and Apple are ranked 4th and 5th, and it should come as no surprise that technology companies have always been the main adopters of renewable energy. However, Google's ranking on the list this year is much lower, probably because it has already offset all electricity usage with renewable energy purchases.

I-Panda -  Inverter manufacturer, off-grid solar controller,MPPT Solar Charge Controller Supplier, solar charge controller - Inverter factory
Disclaimer: The content is partly from the internet.In order to pass on more information, this does not mean agreeing to its views or confirming its description.Article content is for reference only.